Vortex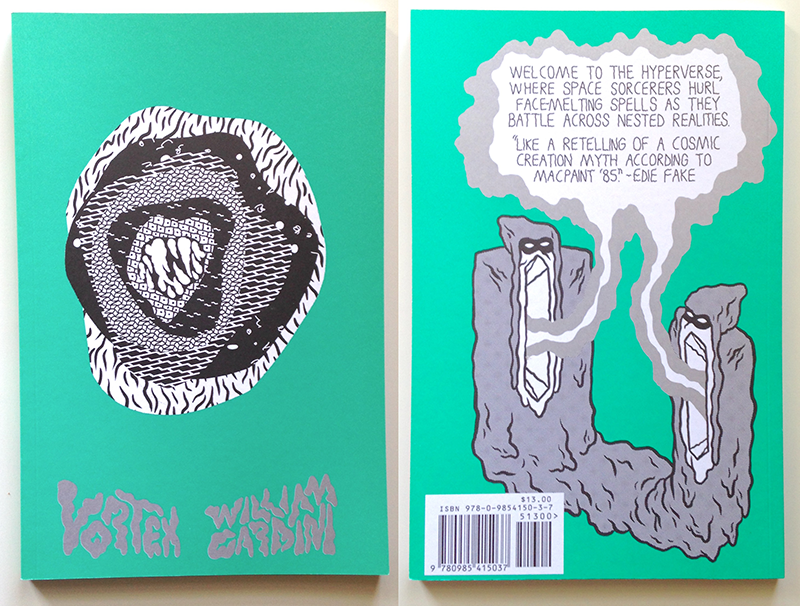 Available in paperback and for your Kindle and or comiXology app from Amazon
Vortex is a psychedelic adventure through a world of thick slimy lines and pixelated textures. The Miizzzard investigates a strange energy source on a seemingly barren world and gets drawn into the shifting reality of the Vortex, sentient beings constructed for war who yearn for freedom. This is my first graphic novel. Sparkplug Books published it via a Kickstarter campaign in Fall 2014. I self-published an earlier version of the story as four mini-comics.
"This is a comic of contrasts. It's oblique yet accessible, organic but simultaneously artificial, crude yet still complex. You don't so much read Vortex as interact with it, forming your own interpretation of the merging, metamorphosing black and white visuals that flow between its covers." – Andy Oliver on Broken Frontier
136 interior pages, 5.9" x 9", B&W with color cover, Sparkplug Books, 2014.
The Vortex paperback is $13. You can order a signed copy directly from me via the PayPal drop-down menu below. Prices include shipping and handling.
NOTE: Domestic orders may take two weeks to arrive. International orders will probably take even longer. Please let me know when you order if you would like your book sooner and we can work something out.
Here's an interior shot: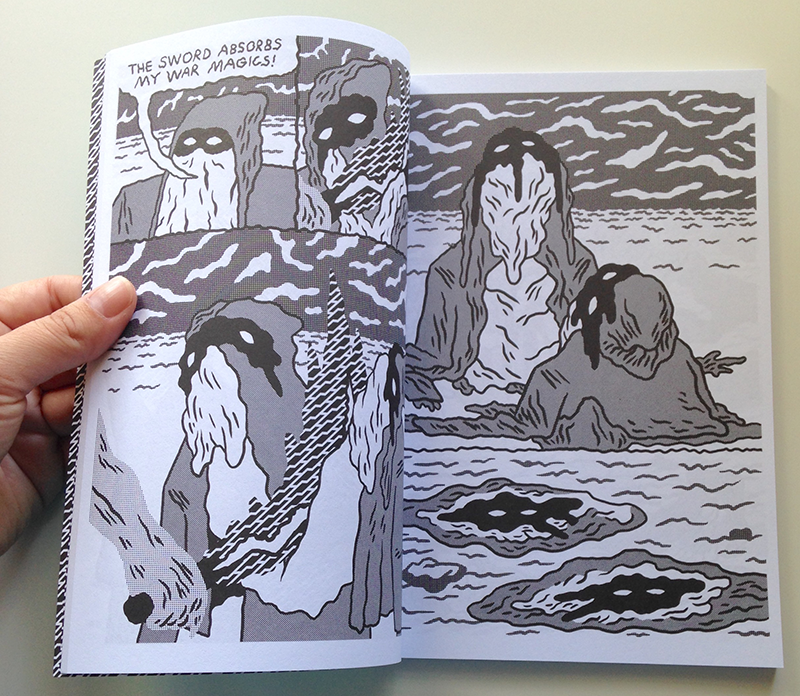 Cover design and book photos by Glade Hensel.
Here are more quotes from reviews:
"Cardini's plot works well, drawing the reader in with increasing layers of complexity, as the Miizzzard finds himself in greater and greater danger, fighting forces that may in fact be beyond his ability to combat. What's really cool, however, is the fact that the art, which is just on the border between abstract and structured, reflects this layering. Thanks to an art style that focuses heavily on shapes and patterns, we as the reader are challenged ourselves to try to pick out the distinct images or watch as one pattern dissolves into another, changing the scene." – Rob McMonigal on Panel Patter
"In a way, Vortex's best comparison is shonen battle manga, specifically Dragon Ball and Dragon Ball Z, where super-powered heroes battle super-powered enemies, who later become friends to fight greater enemies. There is death and revival, always advancing the plot; a secret move that can only be used in times of great need. There is a juvenileness and a joy about it, qualities that are the essence of shonen battle manga. These things jump out at me from Vortex, despite its psychedelic trappings. But the abstraction of art, Cardini"s use of texture, and the loose structure of this comic make it a refreshing read." – Alex Hoffman on Sequential State
"I just love his use of the patterns, synthesis and cosmogony, and The Mizzzard (the main character of Vortex) is simply too charismatic to let him die with this last issue. I don't believe in originality, but his work is at least personal and doesn't make concessions of any kind. It's above all an experience full of life and power that will make you believe in comics as a top flight art." – Gabriel Corbera reviewing the four mini-comics on his tumblr
"Goopy alien wizards melt, battle and stab their way from each others' stomachs in cosmic landscapes forged from bold halftones and thick wacom lines. The contrast between low-res digital textures and organic shapes is a real eyeball melter." – Jack Hayden reviewing Vortex #2 on Comics Workbook